---
11.14.11 - Monday
---
11.11.11 - Friday
Not sure why exactly, but I am addicted to this song and this video. It kind of reminds
me of my youth - minus all the drugs.
I've been listening to it so much, my husband has started to whistle it in the house.
He's kind of adorable.
---
11.08.11 - Tuesday
I just heard this song for the first time this weekend, and I am IN LOVE! Flo Rida is so talented, and this song is pretty much going to be my jam for the winter months. I can't wait to dance to it at the Cactus on a Thursday!
---
11.07.11 - Monday
This weekend, my best friend Anson and I hung out in Washington D.C. He was there for some eye doctory thing, and since my husband is a pilot and I fly for free, I went out to visit!
Here are some pictures that we took in our nation's capitol!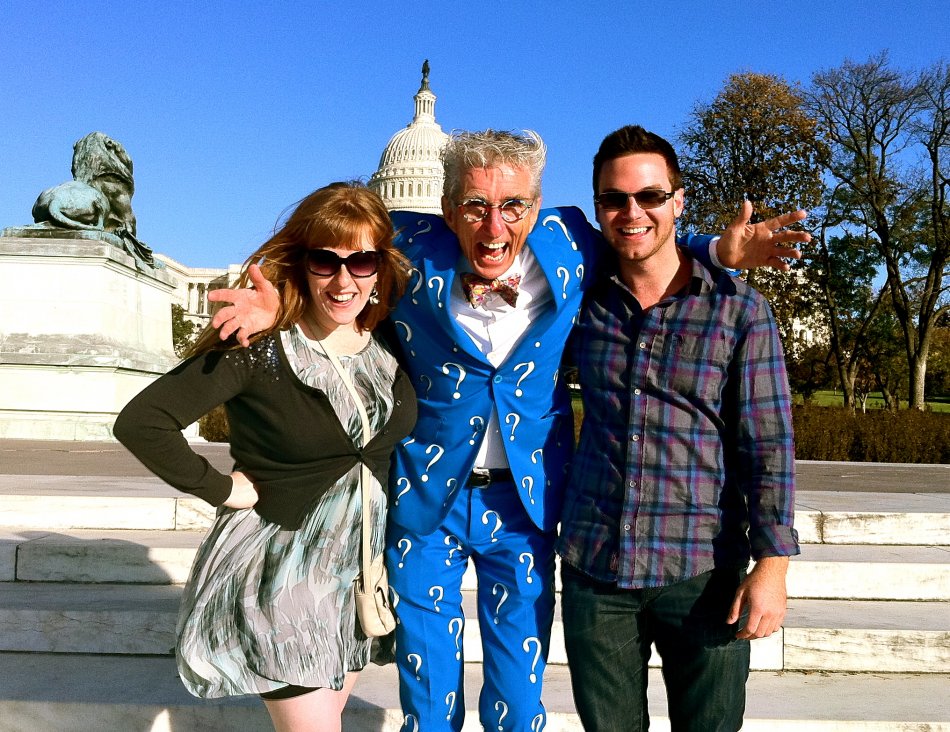 This is the "FREE MONEY FROM THE GOVERNMENT" guy. I tried to give him a dollar afterward for letting us take a picture with him - that's what you'd do in NYC or Chicago - but he refused. What a gentleman!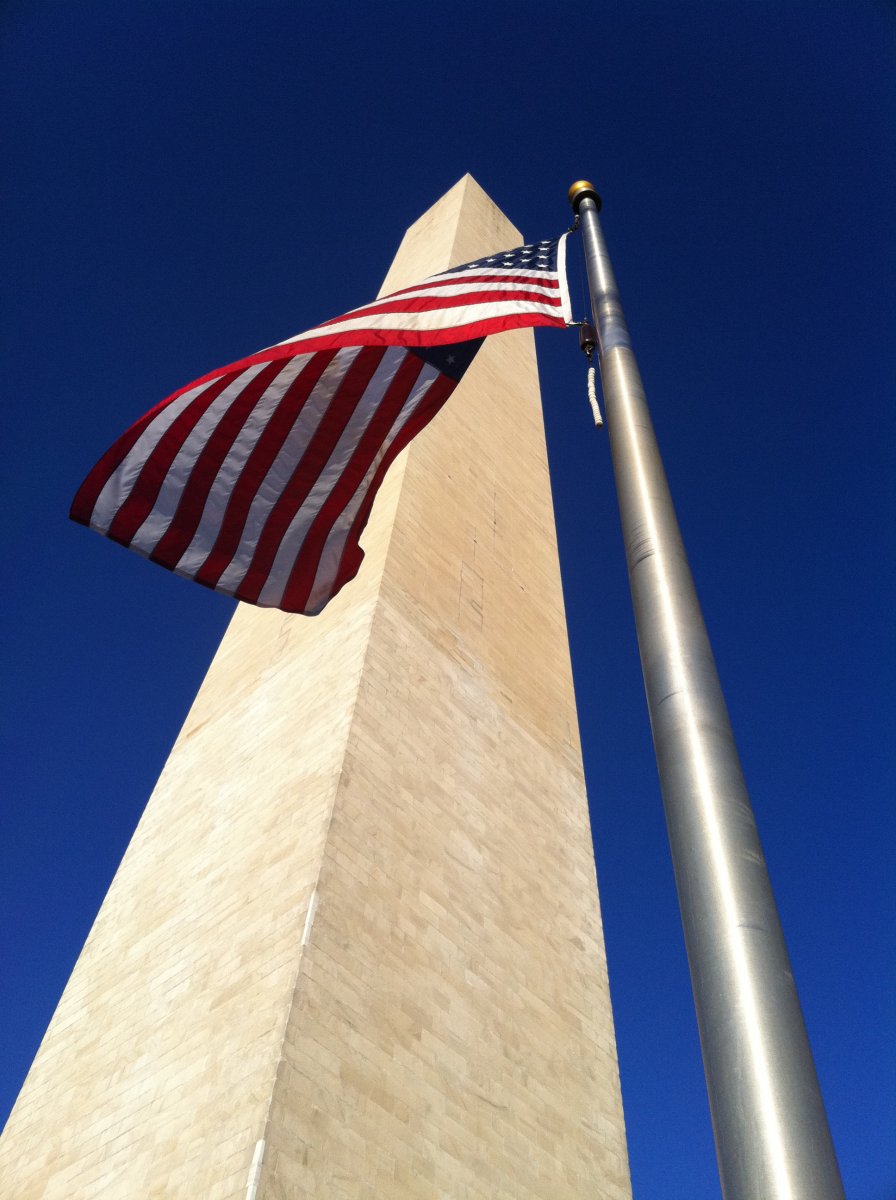 This should SO be a postcard, am I right?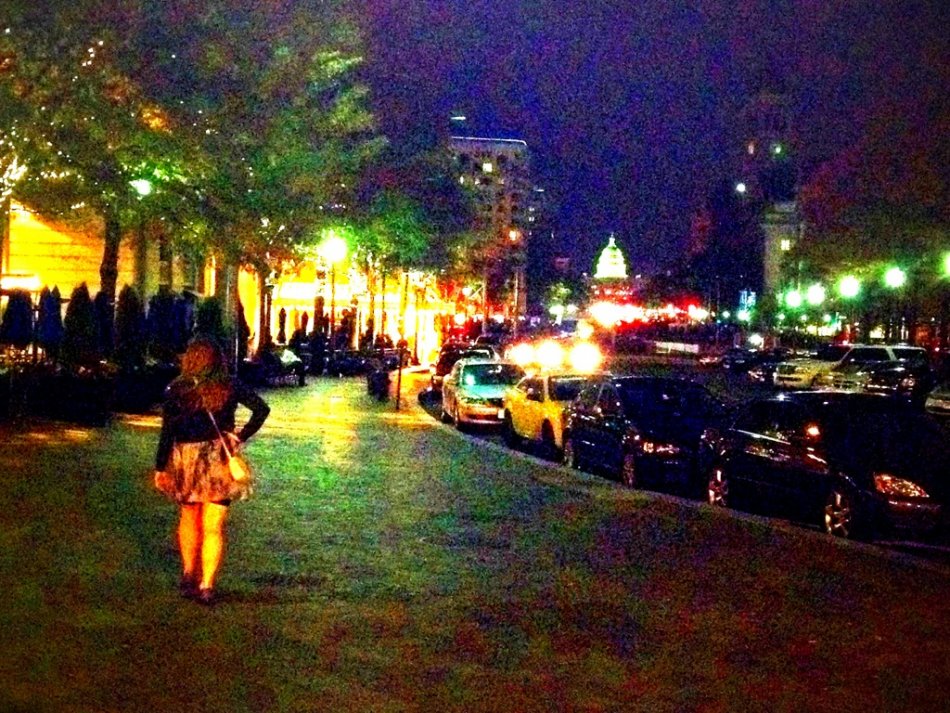 D.C. at night was a lot more beautiful than I had thought it would be.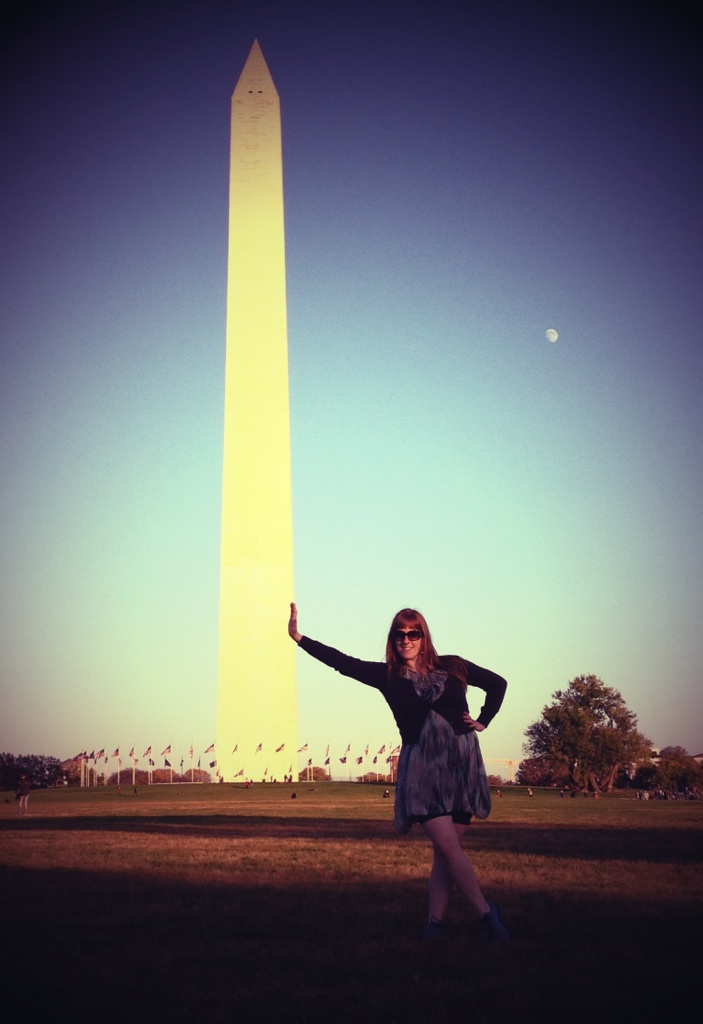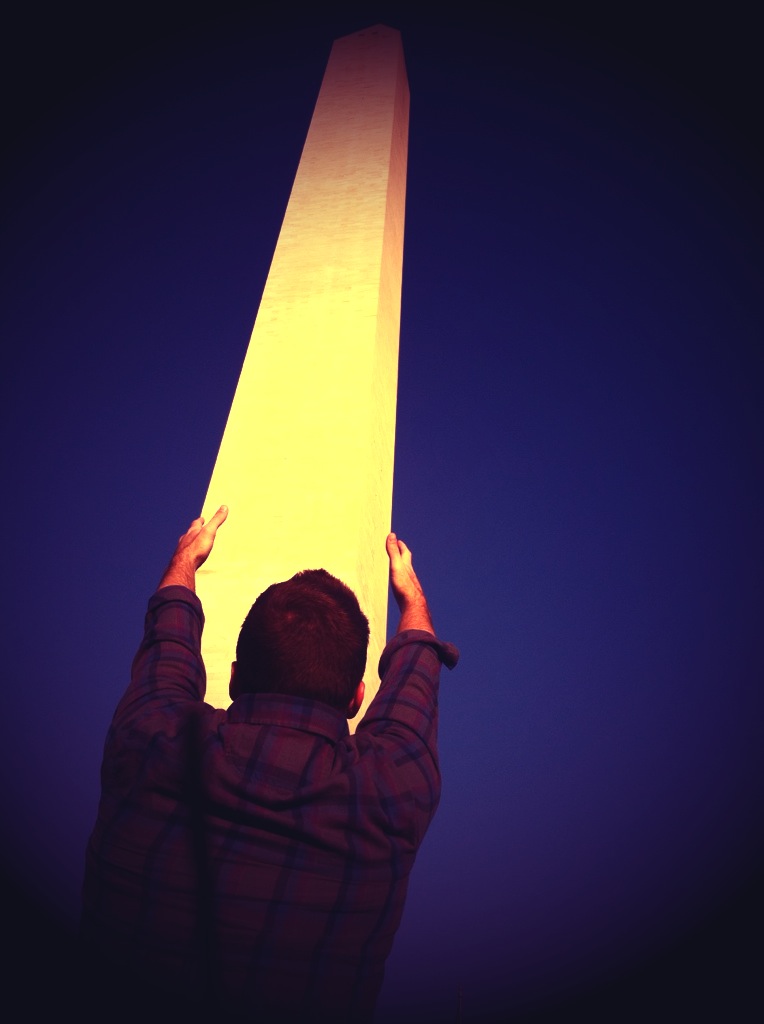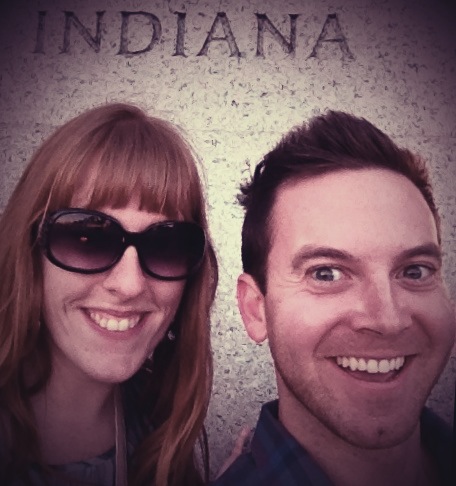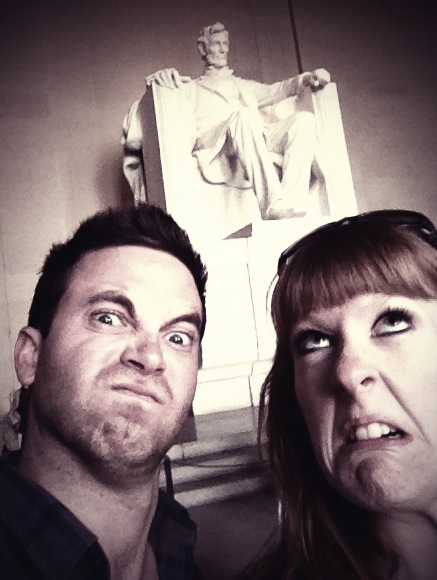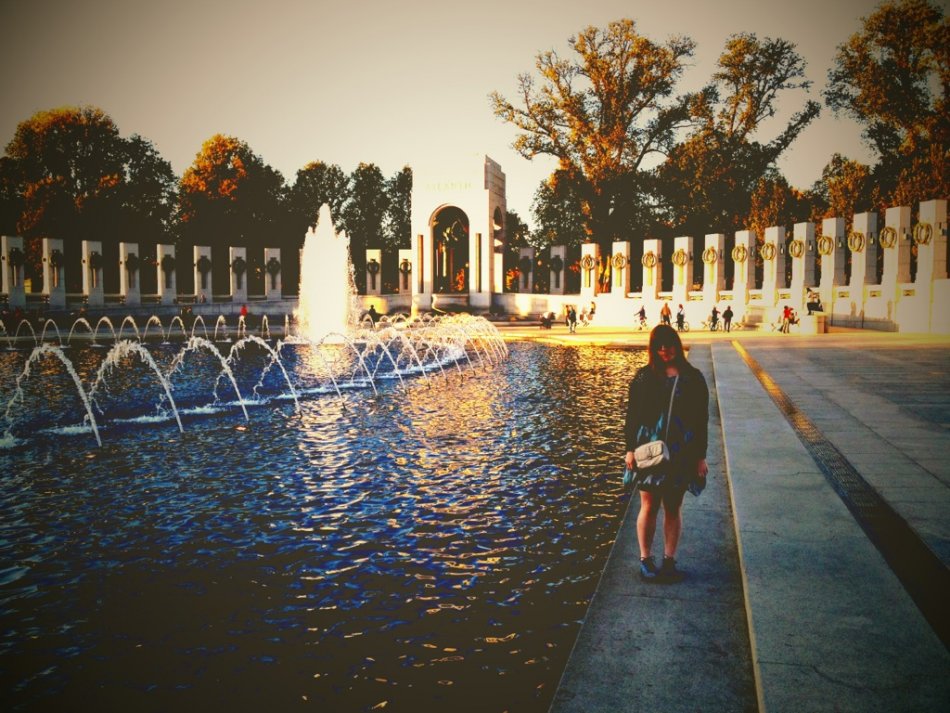 I loved D.C., and I am going to go again in the next few months! Next time, I'll maybe actually visit a museum instead of spending all my time walking from one monument to the next.
---
11.03.11 - Thursday
My husband and I moved into a new apartment recently, and I just finished painting some trees in our master bedroom. My arm is incredibly sore today.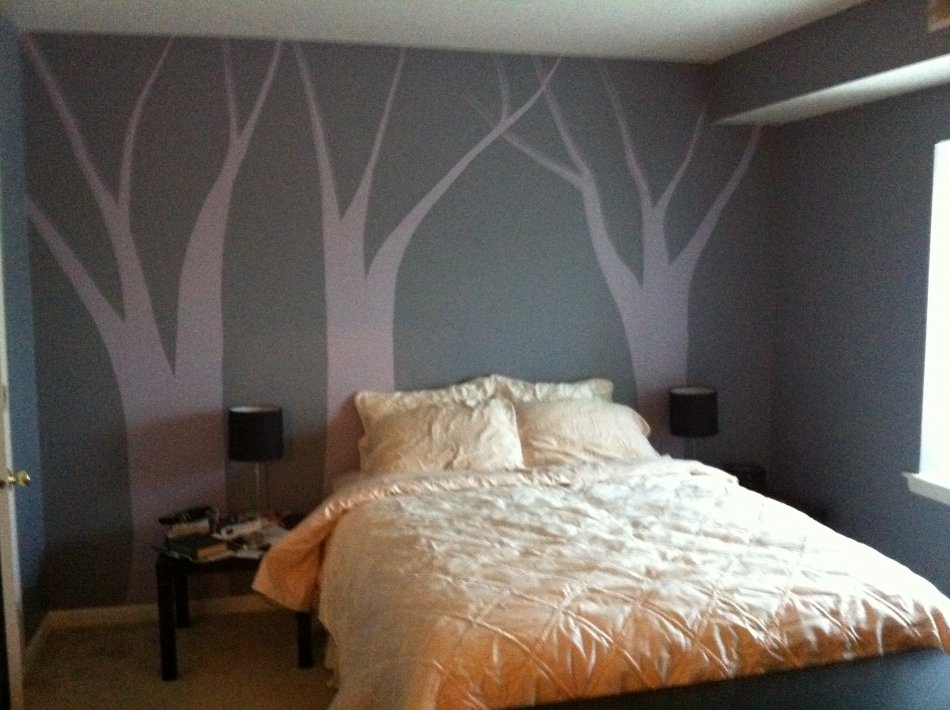 ---
10.31.11 - HALLOWEEN!!!
Halloween is on a Monday which kind of stinks, BUT! I took some pictures of some kids that were looking for treats at my apartment complex. I'm sure their parents thought I was super creepy, but I told them it would be online and I wasn't as creepy as I seemed. I'm still pretty sure they were not convinced.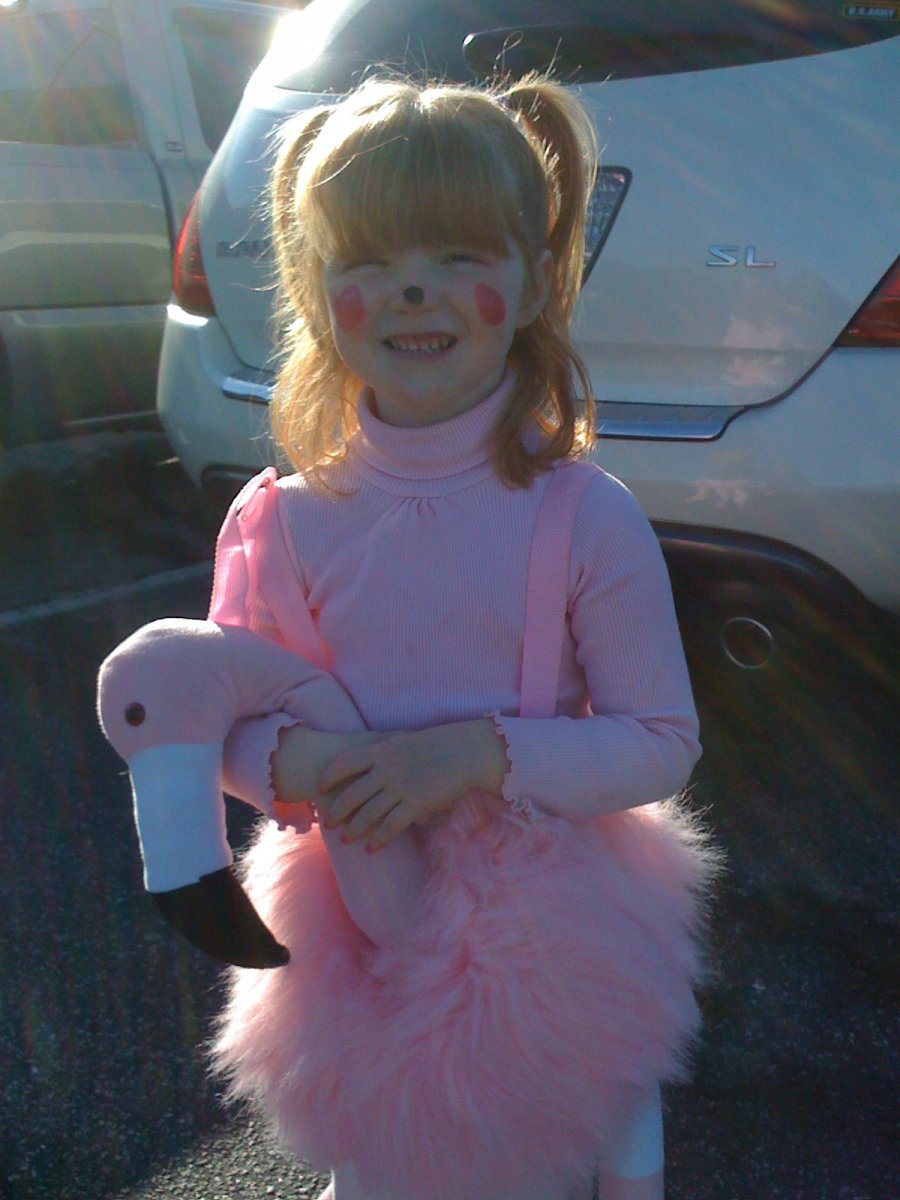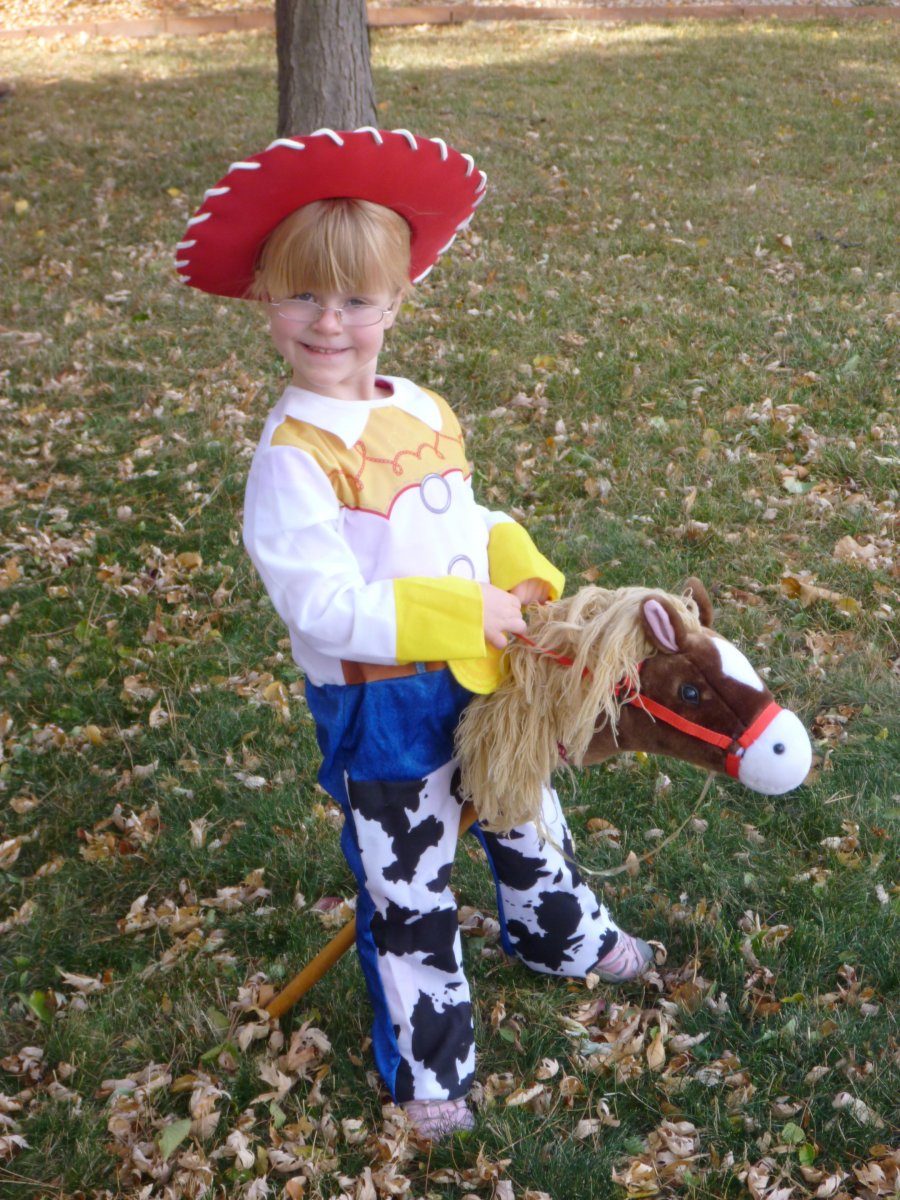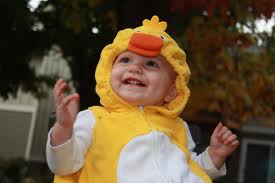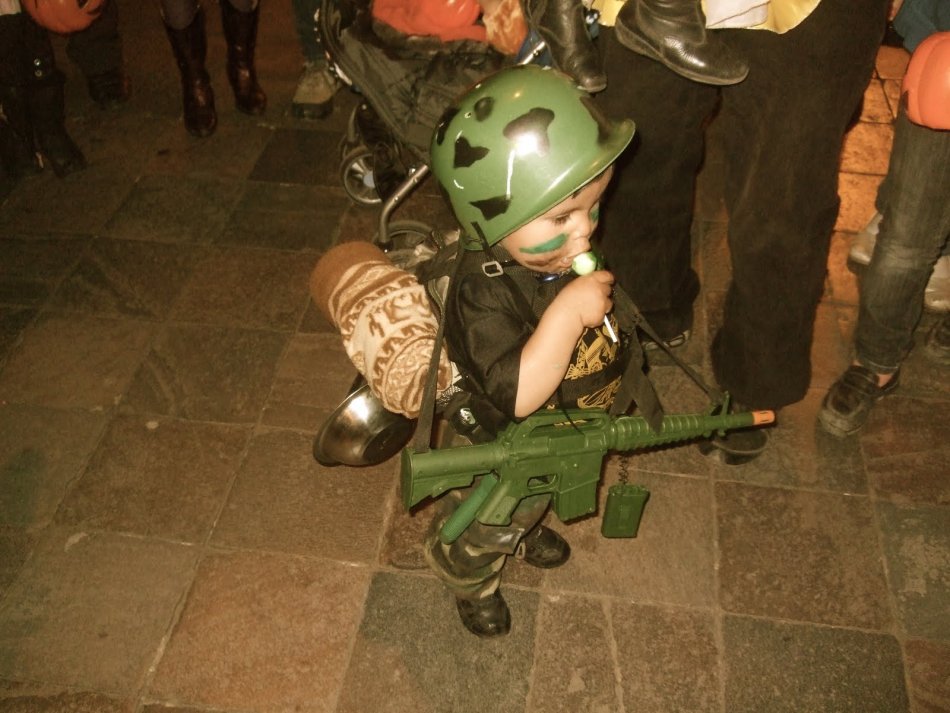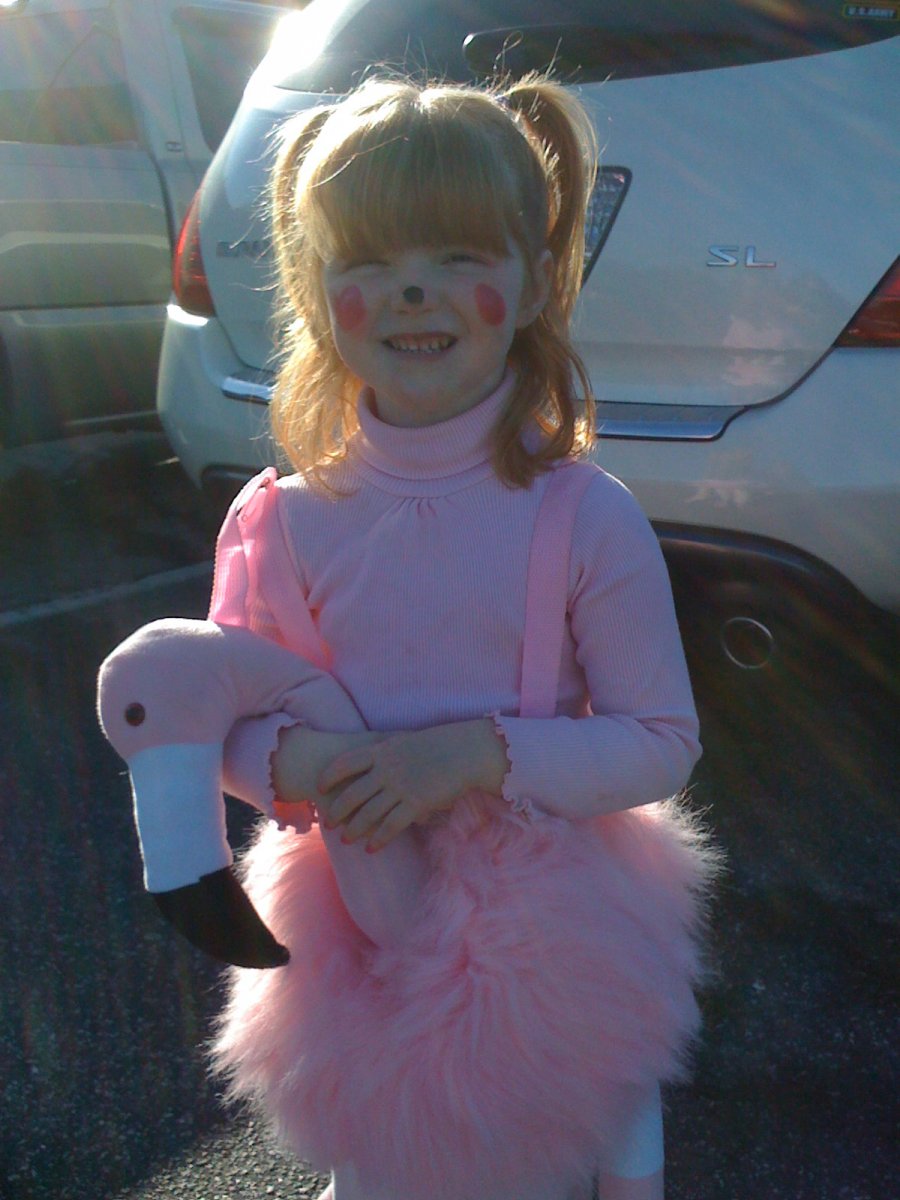 ---
10.21.11 - Friday
It's a super punk Barbie! LOVE IT!!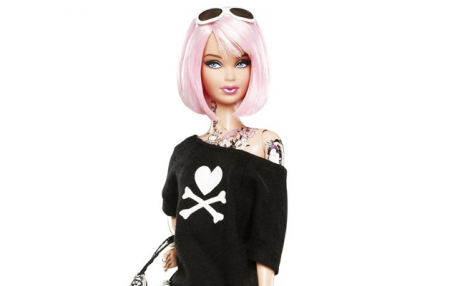 ---
10.18.11 - Tuesday
---
10.17.11 - Monday
Demi is looking SKINNY! But it looks like she's still with Ashton. Or at least pretending.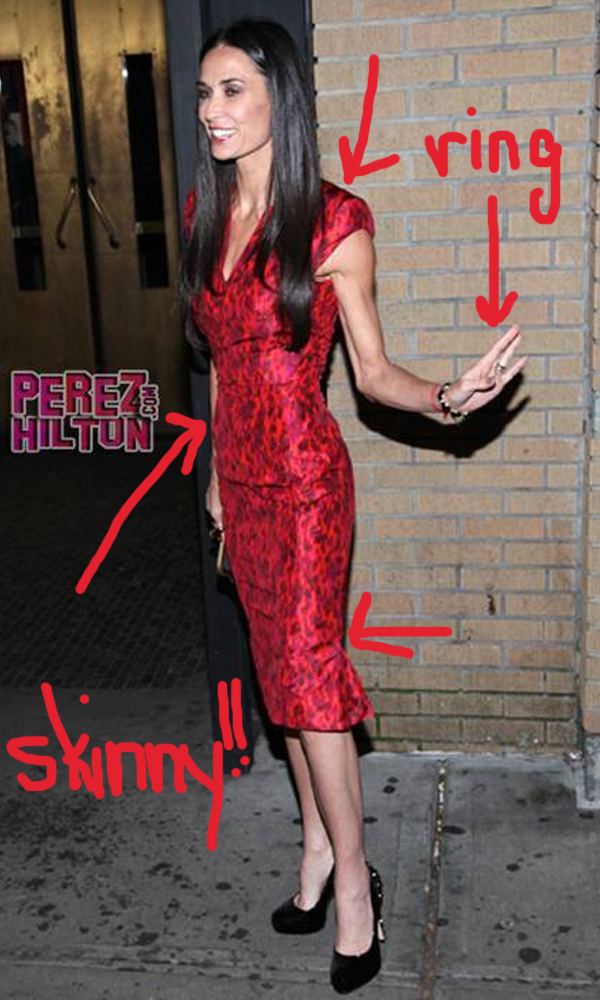 ---
10.11.11 - Tuesday
This is so cute, I can't even stand it!
---
10.10.11 - Monday
Christina Aguilera performed at the Michael Jackson Tribute Concert this weekend, and she's definitely packed on the pounds. However, I think if her hair was less crazy looking and her outfit was less revealing, she'd look a lot better. That said, she is still the most incredible singer I have ever heard.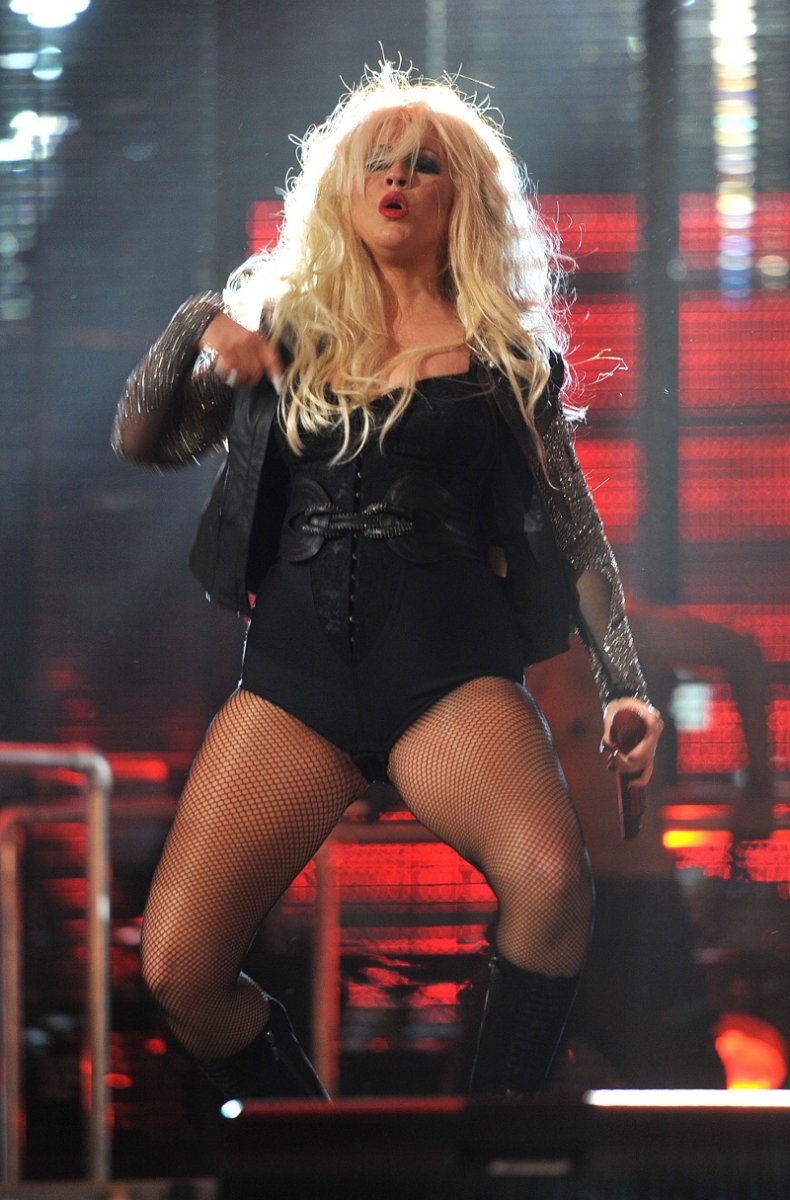 Below is a video uploaded by someone who went to the concert.
---
10.05.11 - Wednesday
Tonight, when I found out Steve Jobs had died, I cried. It was a weird thing to be grieving for someone I have never met. But there I was, sitting at my computer, reading the latest news, and crying like a good friend had died.
I think what moved me most about Steve Jobs was not just his innovation but his dedication to the people that worked for him. While I was at Purdue, we watched so many case studies about Apple and the leadership that Jobs provided. He felt that whether a person cleaned the toilets or was developing a component for the newest piece of hardware, each individual made a profound difference within his company. He revolutionized corporate culture. For this itself, I will forever be grateful.
The saddest part about his passing is his age. 56. How young to die. And especially that he had only been retired for six weeks. I wish he could have lived longer, but maybe...maybe he had fulfilled his purpose.
In honor of Steve (and my Twitter addiction), #ThankYouSteve for inspiring the nation and the world with your innovation for technology and for the betterment of the future. #iSad you're gone, but I truly appreciate everything you left behind. #iMiss.
---
10.03.11 - Monday
Kanye West Fashion Show Designs?
Here is my take, not that it means much. I'm not some super fashion guru. However, all of these clothes look like they were made by a 14-year-old aspiring fashion designer over a 24-hour period in the basement of his parent's home.
And seriously, who can wear metallic pants? Probably Kelly Ripa and Lady GaGa. But even then, I would be a little unimpressed.
---
09.29.11 - Thursday
Scarlett Johansson is finally speaking out about the nude photos that were leaked earlier this month. And as a shocker - she is not pleased.
"Just because you're in the spotlight, or just because you're an actor or make films or whatever doesn't mean you're not entitled to your own personal privacy," Johansson said on CNN this week.
"If that is sieged in some way, it feels unjust. It feels wrong."
Here are my thoughts on this: Nothing we have anymore is private. Whatever websites you go to, someone knows. Your computer tracks every address you visit, and if someone hacks into that, they will see that you've spent seven hours at kittensweaters.com. In addition, if you take nakie pictures of yourself, and someone hacks into that, they now have your pictures.
I do think it's unfortunate that her privacy was violated, but to take nude photos of yourself - especially when you are a celebrity - it just plain stupid. In my opinion, this one is kind of on her.
---
09.26.11 - Monday
I LOVE Stephanie Plum in all the Janet Evanovich novels, so when I found out that they were FINALLY making a movie and that Sandra Bullock was NOT going to be playing Stephanie, I almost died. However, I recovered from my heart attack long enough to discover that Katherine Heigl is playing the lead role. And then I really did die.
I know I'm being overly dramatic, but...I am overly dramatic in general, so this just makes sense. Below is the trailer with Katherine in it. Decide for yourself. Yay or nay?
---
09.22.11 - Thursday
New family on the way? I love it when kids think about having kids. Because, as you know, Justin wants to be a young father. "I want to have kids, like, by 25 or 26."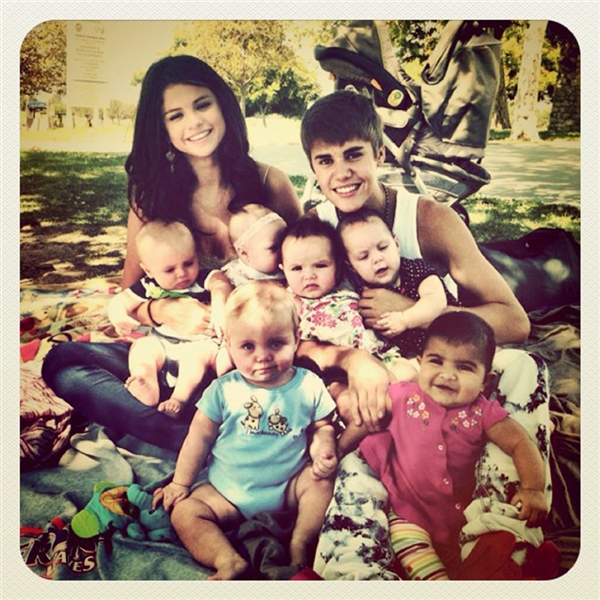 ---
09.19.11 - Monday
---
09.13.11 - Tuesday
Adele is kicking super butt this year with her album "21," and because of it, she has taken titles away in the Guinness Book of World Records from Madonna, Alanis Morissette, and The Beatles.
Adele will appear in the latest edition of the Guinness Book of World Records, which is released on Thursday.
The LP's 11-week reign at the top of the charts helped the South Londoner take the title of solo female with the most consecutive weeks at number one from Madonna and her 1991 release The Immaculate Collection.
It also scooped Adele the gong for most cumulative weeks with a UK No.1 album (solo female) as its total of 18 weeks in the top spot saw off previous title holders Shania Twain and Alanis Morissette.
She also gets a nod for being the first woman to have two singles and two albums in the UK top five at the same time. The Beatles were the last act to manage this back in 1963.
---
09.07.11 - Wednesday
Here is a picture of Lady GaGa on the cover of Harper's Bazaar Magazine. She looks odd with no make-up, but then again, we all kind of do.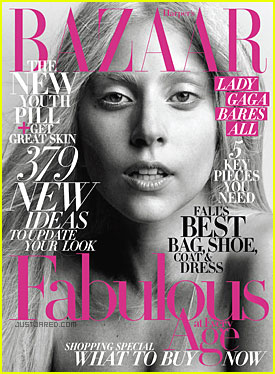 ---
09.06.11 - Tuesday
Okay, so the diet on vacation...didn't work. I would blame several things - like the weather, lack of access to healthy food, no time to go shopping - but these are all bad excuses. The reality was that I went into vacation mode sometime on Friday and didn't come out of it until this morning. So today is a restart, and regardless of the Tippy Connect on Thursday, the sleepover on Friday, a dinner party on Saturday, and a stop in Fort Wayne on Sunday, I'm sticking to my guns. And when I say guns, I mean healthy eating.
Here are some pictures from my trip to North Carolina!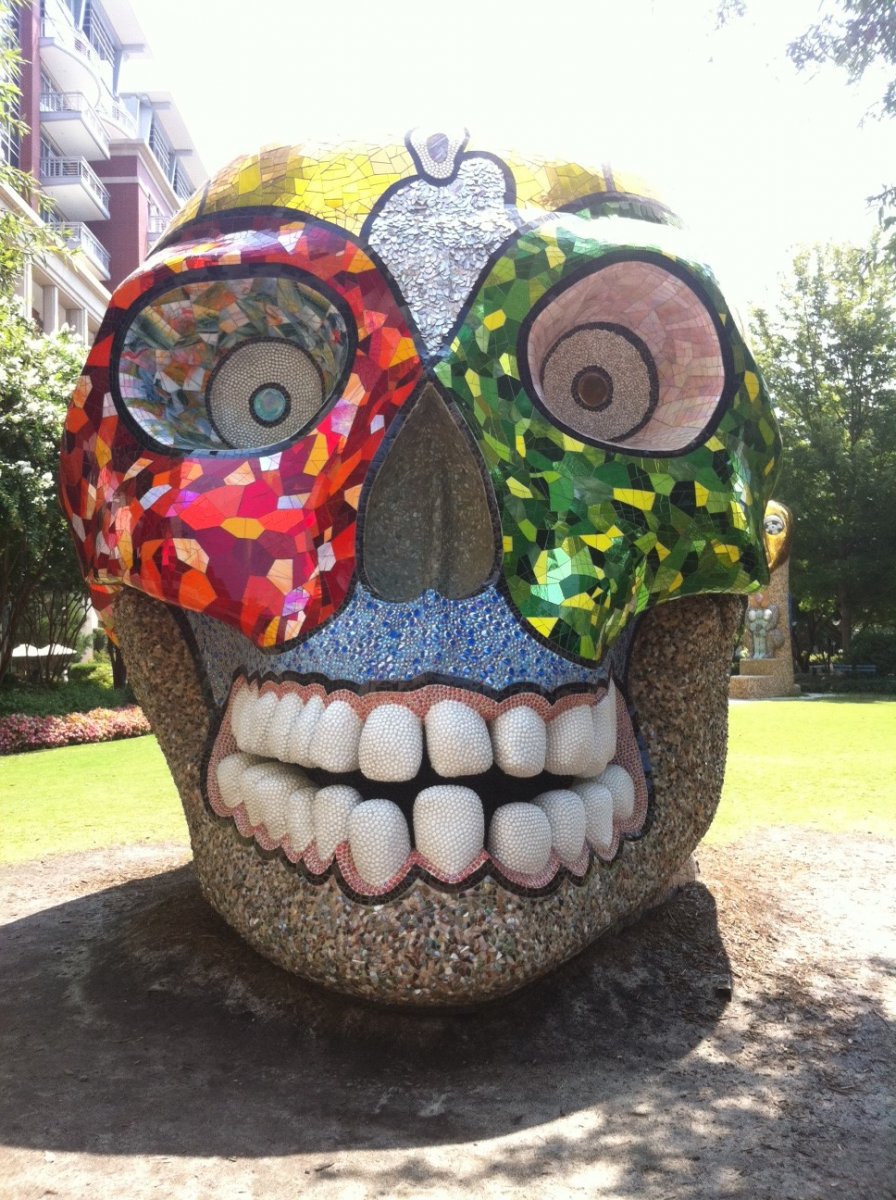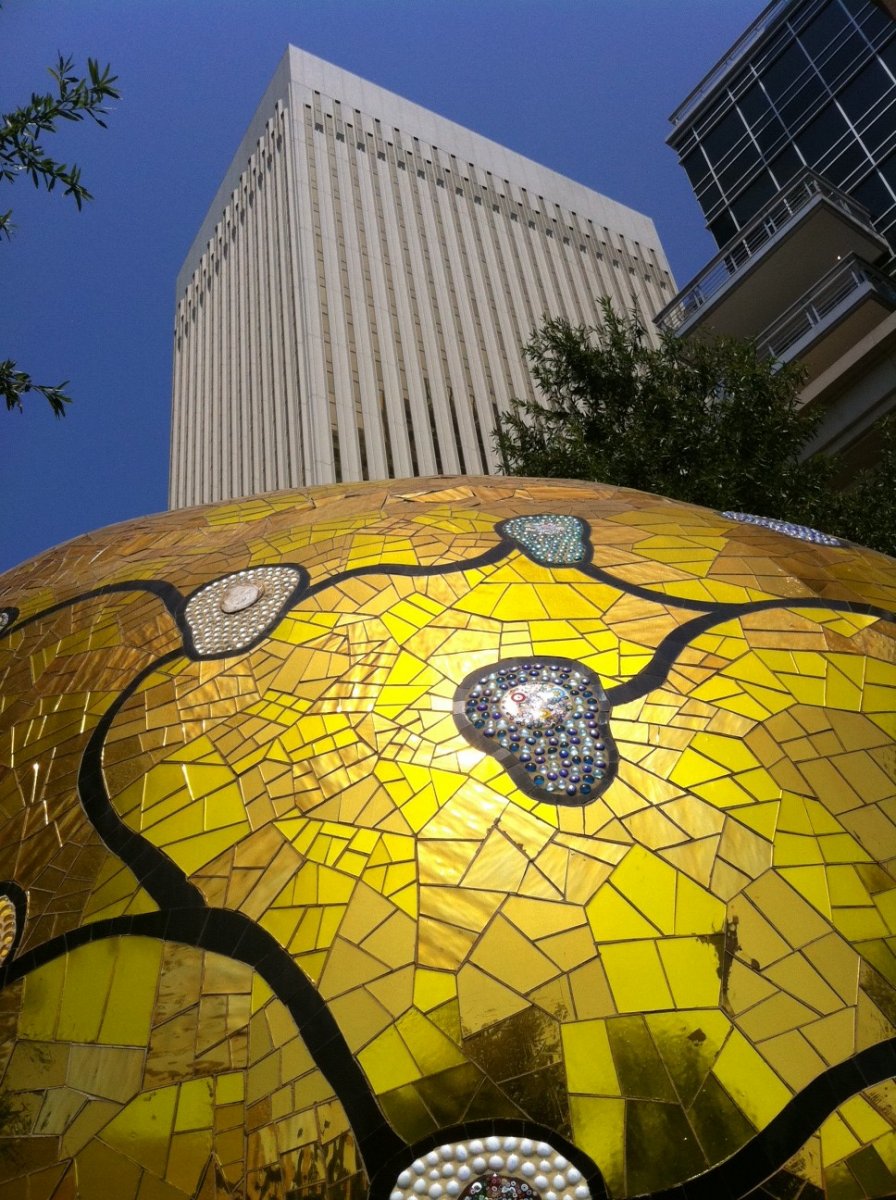 This giant skull was made by Niki de Saint Phalle. This is the back of the skull.
Inside the skull!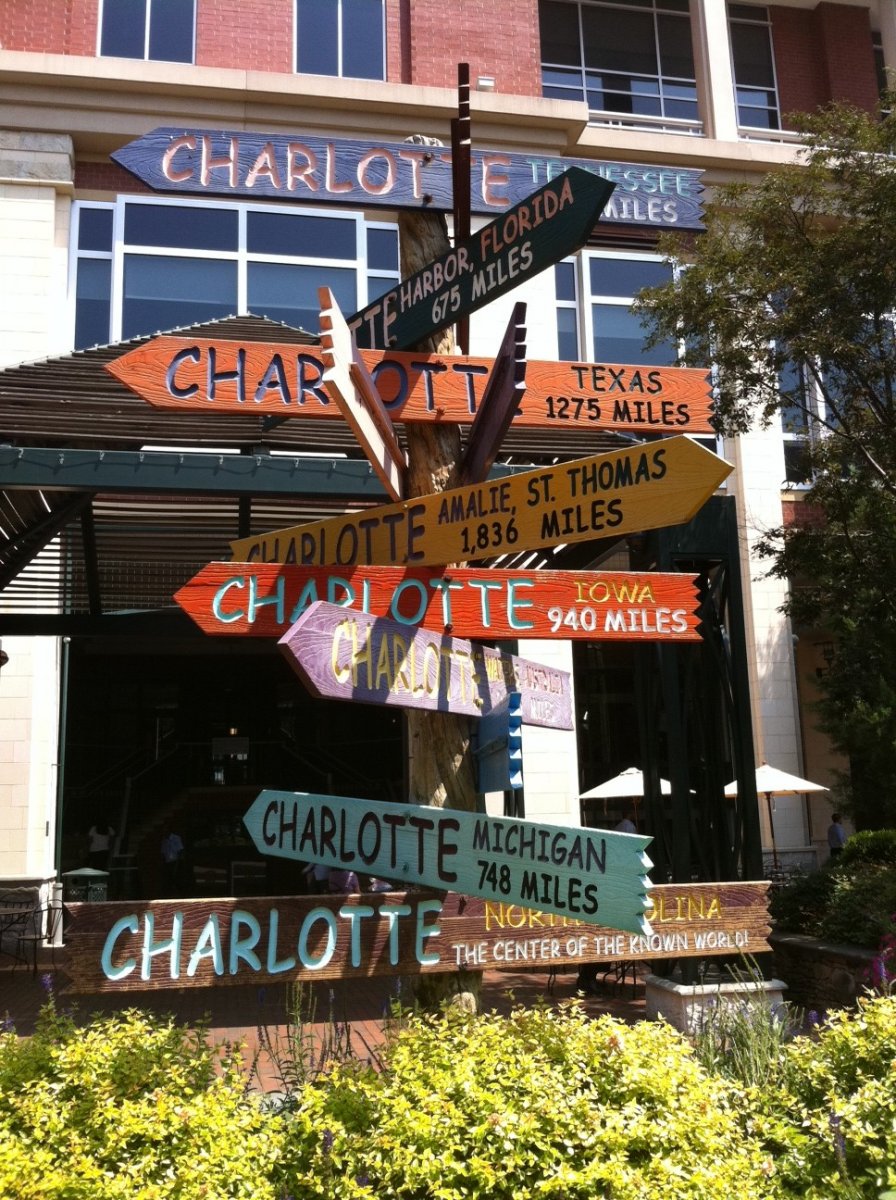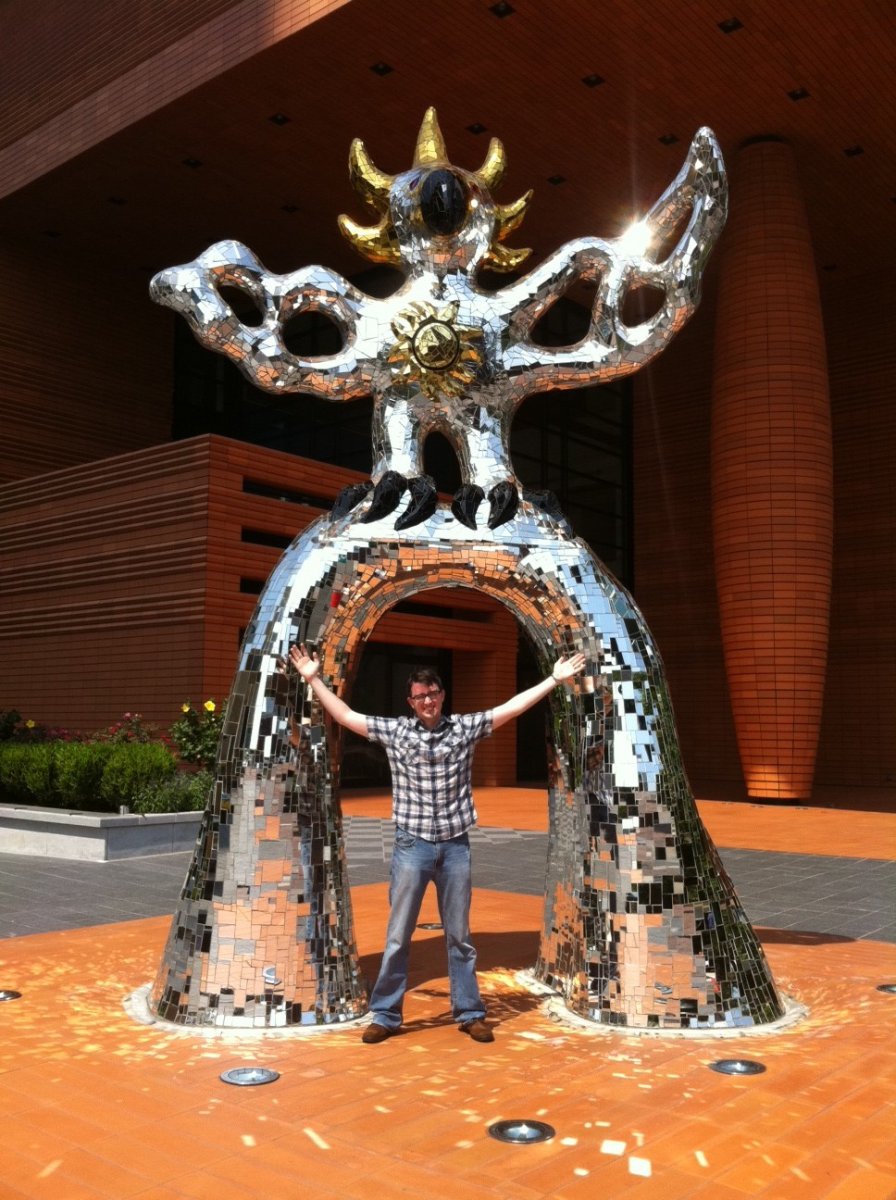 There's a Charlotte everywhere! Kevin with another Niki de Saint Phalle sculpture.
---
09.01.11 - Thursday
Yesterday, the day before my vacation, I officially started a 17-day-diet. It's essentially a mix between South Beach and Weight Watchers. I can eat as many veggies or lean protiens as I want, but I can only have 2 servings of fruit before 2 pm. I also need to eat two yogurts per day. As for grains, nope! However, this is only for 17 days, and after 17 days, you go on a new 17 day plan (which includes some grains.)
In my mind, though, it's stripping down what I eat to what I would've eaten if I was born in the half human/half monkey era. There were really only berries, meat, and leafy greens. It's a meal plan without all the over-processed snack cakes, cheesy chips, and protien bars. Everything we consume now has so many preservatives - it must be taking a toll on our system. And making us fat. And I don't want to be Mrs. Chubby Bottom anymore. Hence the diet.
We will see how this shakes up over the holiday. I'm staying in a hotel on the outskirts of Charlotte, NC with my husband. We have no mode of transportation other than our legs. Talk about taking it back to the basics.
---
08.29.11 - Monday
I watched the MTV VMA's last night, and because I had no expectations, I was pretty satisifed with everything. Except, maybe, for Russel Brands ramblings about Amy Winehouse.
Here are my recaps:
Beyonce is preggers, and was super adorable when announcing it.
Everyone looked like Lady GaGa - except for Lady GaGa.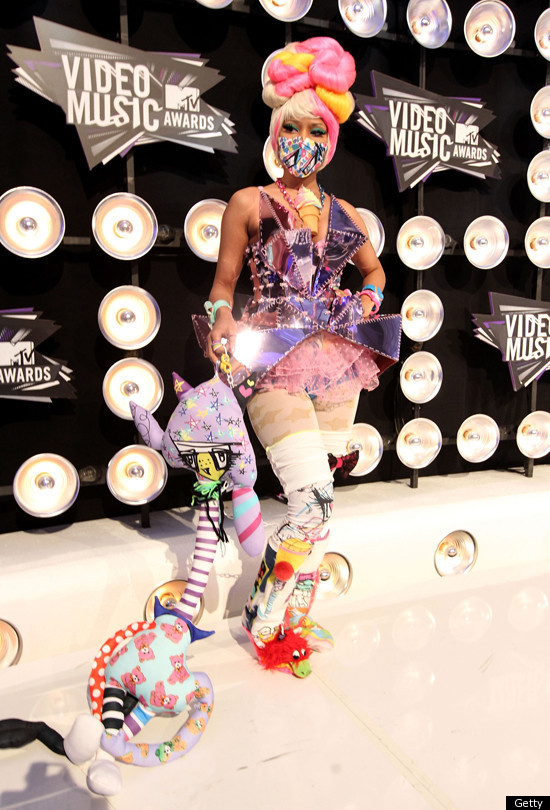 Katy Perry Nikki Minaj Mr. Lady GaGa
Lil' Wayne sang "How to Love" (which always sounds like "high to low") with AutoTune. Talk about talented!
There was an Amy Winehouse tribute, and they talked about alcoholism being a disease.
No one laughed at the Jersey Shore cast when they made jokes on stage.
And a list of winners!
Video of the year
Katy Perry, "Firework"
Best new artist
Tyler, The Creator
Best male video
Justin Bieber, "U Smile"
Best female video
Lady Gaga, "Born This Way"
Best hip-hop video
Nicki Minaj, "Super Bass"
Best pop video
Britney Spears, "Till The World Ends"
Best rock video
Foo Fighters, "Walk"
Best collaboration
Katy Perry featuring Kanye West, "E.T."
Best video with a message
Lady Gaga, "Born This Way"
Best choreography
Beyonce, "Run The World (Girls)"
Best editing
Adele, "Rolling In The Deep"
Best special effects
Katy Perry featuring Kanye West, "E.T."
Best cinematography
Adele, "Rolling In The Deep"
Best art direction
Adele, "Rolling In The Deep"
Best direction
Adele, "Rolling In The Deep"
---
Rumored Dancing with Stars Cast:
Nancy Grace
Kristin Cavalleri
Ricki Lake
Chynna Phillips
Hope Solis
Elizabetta Canalis
David Arquette
Rob Kardashian
Ryan O'Neal
J.R. Martinez
Chaz Bono
Ron Artest
Now, of course, the official announcement will be made tonight on ABC during The Bachelor Pad. If any of this changes, I'll have updates tomorrow!
---
08.24.11 - Wednesday
---
08.17.11 - Wednesday
It's pretty dark, but she really does have a lovely voice. Way to go, Miss Taylor Momsen!
---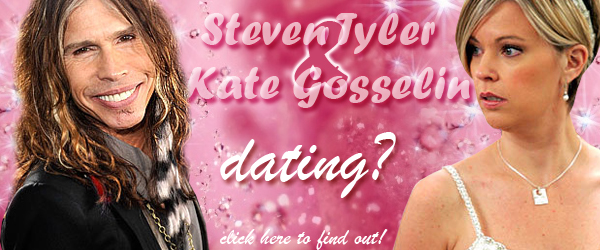 ---
08.01.11 - Monday
One of my best friends had her bachelorette party this past weekend, and as the Matron of Honor, I was held responsible for planning the festivities. I stayed up until 4:00 a.m. on Friday night sewing and painting her sash. I had been meaning to work on it all week...but I didn't actually start on it until about midnight. Several things went wrong while I was working on the stupid thing which is why it took four hours. My bobbin ran out of thread (and then it took me a half an hour to get it back in the machine after respinning it), I realized I didn't have an iron (so I used my flat iron instead), I didn't have silver paint (so I used a silver gel pen), I spilled my drink on the floor (because red martinis are good to drink when you're working with needles?), and I had to paint and repaint and repaint the letters.
One side of the sash said "Bachelorette," and the other side said "Queen Fruit Fly" in honor of our appearance in Boy's Town.
Here are pictures!!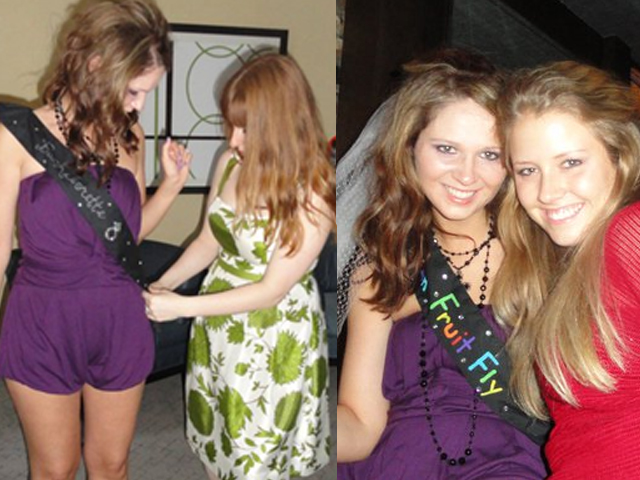 That is me pinning the sash on. Am I super pale, or what? & Lauren with her cousin!
So, if you need a custom sash made, I'm your girl. But you will be paying for supplies and sitting with me until 4 in the morning while I make it.
---
07.27.11 - Wednesday
My brother shared this with me yesterday, and I found it so funny - I just had to share it with you. Hopefully, he doesn't find out and try to murder me.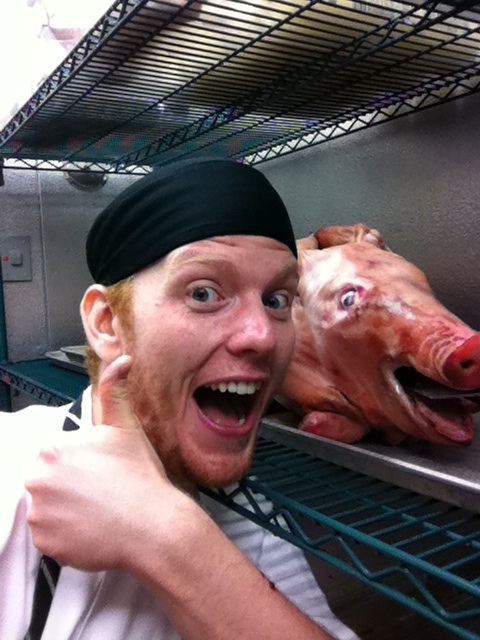 HAHAHAHAHA. This is SO gross, but SO hilarious.
---
07.25.11 - Monday
I just made a myspace for my music! I preface the link by saying that I'm only medicre at guitar, but I love to sing and I love to write songs. It's very female singer/songwriter sounding, and I think eventually I'll add drums/bass/keys and I would LOVE a banjo. Click to listen. Click to comment on music. Be gentle.
---
07.20.11 - Wednesday
Uh...what...is...this?
This is the 16-year-old that married a 51-year-old "actor." Grossed out, yet? Want to be more grossed out? Read more about it here. And check out pictures of their ceremony (complete with awkward posses & with hooker heels) here.
---
07.19.11 - Tuesday
---
07.18.11 - Monday
My brother and his beloved are expecting a child, and by the end of Decemeber, I am going to be an aunt. I am determined to be "The World's Best Aunt," and I'm pretty sure I'll be able to purchase a coffee mug that says so. In addition to that proclaimation, we find out on Friday if it's a little boy or a little girl. Michael and Jenna have come up with some names, and I've taken it upon myself to come up with some as well. Here are the names:
For a little boy:
Rick James
Doug Thor
Alabaster Yukon
Dempsey Mitchell
For a little girl:
Marigold Daisy
Beverly Bee
Patty Dotty
Whisper Willow
Pretty awesome, right? Though I seriously think they're considering Thor as a middle name. And before you judge, think about how awesome it would be if your middle name was Thor. Because, obviously, you'd have super human strength and hot babes would follow you wherever you went (i.e. Natalie Portman.)
---
07.14.11- Thursday
Today I'm feeling a cross between lazy & tired. Going away on a two week honeymoon really takes a lot out of you. You get to this point where you're pretty sure you couldn't be any more relaxed, and the you realize that you're only on Day 3 and have another week & a half to go. It makes your average day of work seem like a lot, and I've been back for over a week. I should be used to this already.
I love being married! I don't feel different at all, but I love being able to say that Kevin is my husband. So weird, but so awesome.
The Shake Ups are set to record soon! I'm so pumped!!
---
07.07.11 - Thursday
Here are some photos from my wedding that were taken by my photographer. Bram Wahl is excellent, and you can find him here.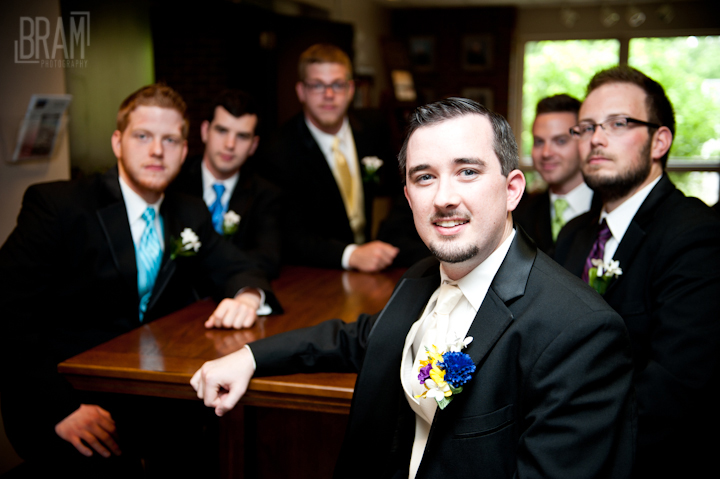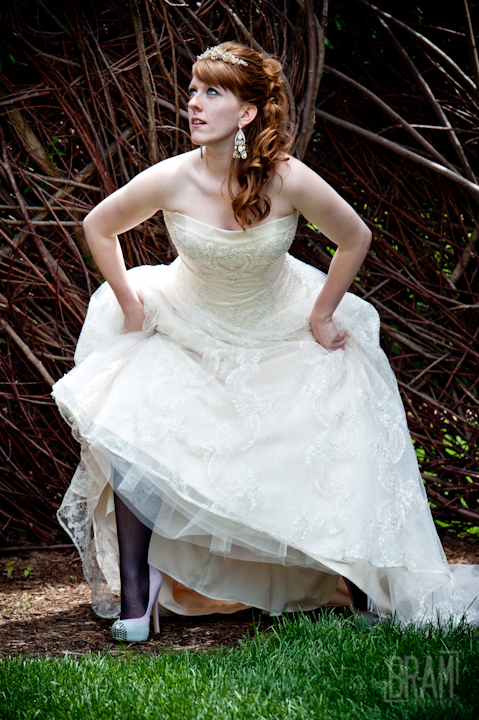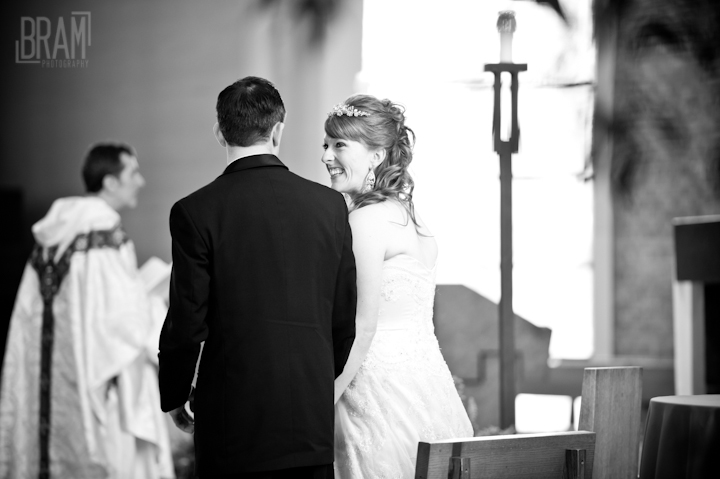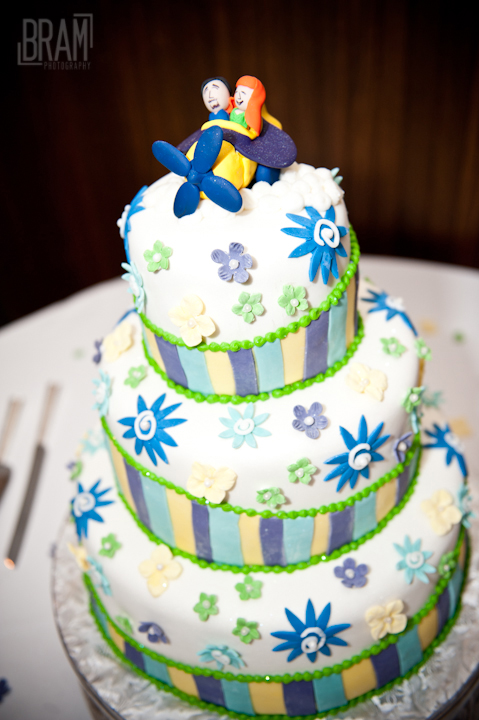 ---
---
06.10.11 - Friday
This weekend is my bachelorette party, and I am SO excited!! I've requested to my friends that I am not made to wear anything tacky, but to bring on the overly personal questions and crazy happenings. We'll see what happens, but I'm hopeful that it'll be a tasteful, yet crazy night.
One of my best friends is taking a train from Chicago, and I have to pick her up this evening. We'll probably be staying in as she tripped over her dog last week and sprained her ankle. It's doubtful that she'll be able to cram her foot into the shoes she bought for my wedding. As distasteful as it is, I might let her wear silver flip-flops. Gross.
Maybe I'll find a way to sprain my ankle for her wedding in August.
Okay, probably not.
---
06.06.11 - Monday
Fashions from the MTV Movie Awards yesterday. I'm more interested in the not awesome, obviously, so here are some pictures.
Katie Cassidy Rosie Huntington-Whiteley
See-through lace makes people look like This looks like someone sewed a rug
they're literally wearing a hammock. together from Austin Power's bedroom.
Holland Roden Amanda Bynes
Yeah, I don't even know where to start. Are those turquoise hooves?
---
06.03.11 - Friday
Does Scarlett Johansson look pregnant or what? Potentially, she could just be gaining some weight. I gain all of mine in my stomach. It looks like I'm carrying around a beach ball - even though I'm not. She could be the same, but I personally think she's preggers.
And Sean Penn? Doesn't he look...old? Why anyone would ever date someone the age of their father, I will never figure out. Yuck.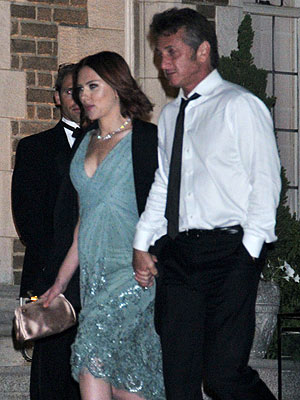 ---
Story about Simon Cowell Fixing Britain's Got Talent here: http://perezhilton.com/2011-06-03-simon-cowell-goes-to-cops-over-claims-that-britains-got-talent-is-fixed-and-ronan-parke-is-guaranteed-to-win
---
06.02.11 - Thursday
---
06.01.11 - Wednesday
This is the single from Steven Tyler's new album. The song is called "(It) Feels so Good." Was there really a need for parentheses in the title? Uh, I don't think so. Also, maybe this is just me, but I think this song, "Feels so Bad." What do you think? Email me at bitsy@wazy.com.
"It" Feels So Good - Steven Tyler by user9295477. Uploaded with SoundCloud iPhone
---
05.27.11 - Friday
Lady G on Good Morning America!
---
05.26.11 - Thursday
Thank you SO MUCH to all the listeners that called in today to share their spa advice! I think that I'm between two places, and I probably won't be 100% sure of where I should go until the day before. I'm going to do a bit of calling around first.
Last night, I wasn't necessarily freaked out about the tornado/storm sirens, but just in case it was worse than we thought, Kevin and I gathered up all our "important" documents, grabbed our cat, and sat in the closet for about ten minutes before deciding that we'd rather die in a tornado than be squished in a three by four foot space. After we came out of the closet, we felt a lot better. As I think most people do.
---
05.24.11 - Tuesday
The wedding nightmares are getting worse. Dreams I've had are as follows:
1) I had to get dressed in front of people.
2) Kevin ran away with a bridesmaid.
3) Woke up the day of the wedding incredibly sick.
4) Developed the world's largest cold sore on my face. In the dream, it was literally the size of a frisbee.
Thankfully, I'm not going to have to worry about Dream #2, but all of the rest are possibilities. Well, probably not #4 either, but we'll see. I could wake up on the morning of my wedding looking like some sort of freak from a B movie. Oh gross. Now I'm having a panic attack.
::five minutes later::
Feeling better. I had to walk around the parking lot for a couple of minutes. I already anticipate that my four year old cousin will decide it necessary to scream and/or cry during the ceremony. I'll spill red (anything) on my dress before I arrive at the reception. Also, based on my general clumsiness, I'm positive that I'll trip at least twice. Once while sober, and once after several Guinness.
Less than four weeks and counting. Put me on your prayer list.
---
05.16.11 - Monday
OBVIOUSLY Photoshopped.

---
05.13.11 - Friday
This is a drawing of my wedding cake. (Well, photoshopped with a cake plate, a background, and Kevin and me perched on top.) All the flowers will be colored in like the ones on the bottom tier. On the top, there will be puffy white clouds. I'm designing a cake topper of us flying away in a plane (because Kevin is a pilot [and I think it will be super cute!])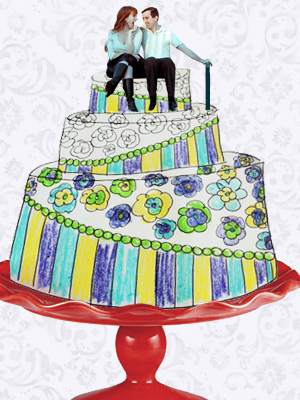 ---
05.11.11 - Wednesday
So Bristol Palin is saying that, no, she has not had plastic surgery. Who is she trying to kid? If you look at these pictures for comparison, her weight is about the same. She might have lost 10-15 pounds (max) from the left picture to the right. And just for the record, 10-15 pounds does not COMPLETELY ALTER YOUR CHIN.
What do you think? Email me at bitsy@wazy.com.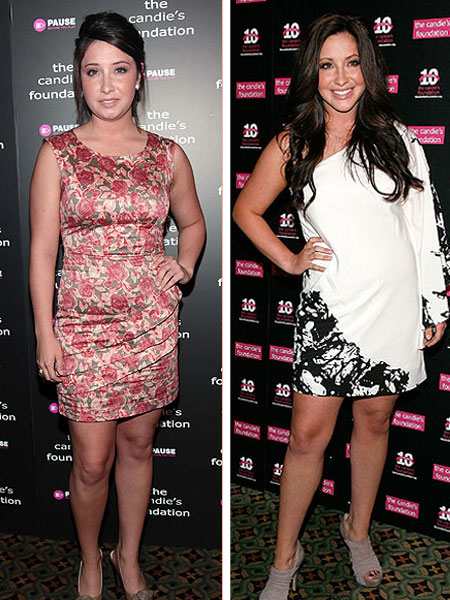 ---
05.06.11 - Friday
GAGA
---
05.03.11 - Tuesday
So, I can't embed this video for some dumb reason, so here's the link to Between Two Ferns: http://youtu.be/n6teAjGAhec
---
---
05.02.11 - Monday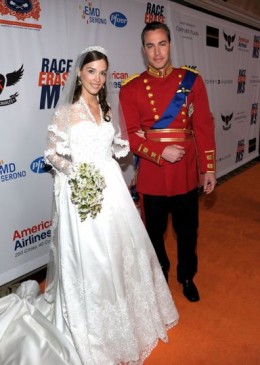 So the dress to the left is the first official Royal Wedding knock off dress. Would you buy this? I guess the designer is attempting to sell them for roughly $7,000. Riiiiiight. I'll buy that immediately after I pick up my Mercedes from the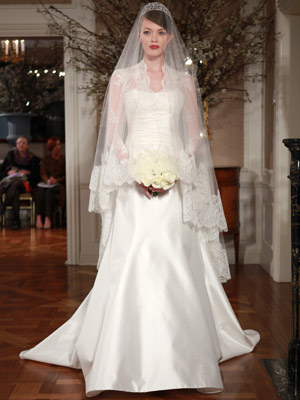 dealership.
It looks cheap, too.
I like the one to the right much better, and it's a more reasonable $2,500. (Which is still really unreasonable.)
---
4.25.11 - Monday
Maybe it's ridiculous, but I am getting really nervous about the X-Factor auditions in Chicago. The reality is that I will probably not even make it to the audition process. I'm sure they'll find enough people before they get to me. People are supposed to start getting wristbands on Tuesday at 6:00 a.m. I'm not going to get my wristband until probably 10:00 p.m. I will be definitely near the end of the list. Even still, it will be a fun experience, and I will definitely have pictures and stories to share!
As of right now, I'm thinking that I will sing "Hate Myself for Loving You" by Joan Jett. It is kind of rock 'n' roll and shows a good range at the same time. I am also considering "Rolling in the Deep" by Adele. OR! I might just sing one of the many songs I've written. I figure that the producers will have never heard it, so they'll want to listen to the whole thing.
AH! I might have some time to blog tomorrow, but I don't know. I might be way, way, way too stressed and too busy eating left-over Easter candy to update everyone.
---
04.22.11 - Friday
Here is the latest installment of The Almost Weekly Show!
---
04.22.11 - Friday
Here are the judges from NBC's "The Voice" singing "Crazy," and sounding really awesome!
---
04.20.10 - Wednesday
I really think this song is incredible. Weird Al is the master of hilarity.
---
04.19.11 - Tuesday
This is Lady GaGa's new cover art. What do you think? Send me an email at Bitsy@wazy.com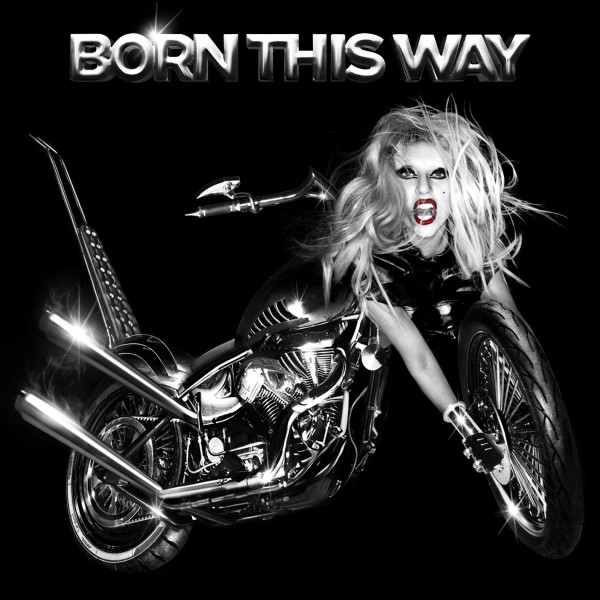 AND! Here is a video of Paul McCartney dancing with Usher! It's cute and you can see it at 4:30 in.
---
04.18.11 - Monday
It's tax day, so if you are a procrastinator like me, you've yet to do them. I know it's cutting it close to the deadline, but I'm not too worried. I've got a few hours left, and I'm just going to do them while I sit here in the studio.
This weekend, I was talking about a mother who let her seven-year-old daughter get plastic surgery. It's not like she got a boob job or anything, but this little girl had ears that stuck out pretty far. So, the mother's solution? Cosmetic surgery! My thought is, being fat, being ugly, being awkward when you're little is normal. When a kid's adult teeth grow in, the first thing you think is definitely NOT, "Oh, they are so gorgeous!" From the age of six until about seventeen, I was fat, ugly, and bucktoothed with a bad haircut. I got made fun of when I was little, a lot. However, it gave me my backbone. It gave me a sense of humor. And, it provided me with an incredible work ethic so that despite my frumpy, dumpy looks, I could make it somewhere.
Anyway, enough about me. Here's what some of you had to say:
"I'm with you! I was a porker growing up & it helped me grow up knowing that looks are secondary. That mother has just reinforced a future of self-conciousness. She should have instead taught her daughter that it is what is inside that counts. As cliche as it sounds, it is the truth!!" -Michelle
"I can understand where this mother is coming from, but she shouldn't try to protect her from everything in the world. There is no way that fixing an ear or two will keep her from getting teased. Kids tease one another no matter what - it could be a kid's names or a kid's looks. She can't save her kid forever." -Sara
"If my daughter had a cupped ear, and I could have gotten the surgery for free, I would have done the same thing." - Samantha
---
04.16.11 - Saturday
What do you think of this? Email me @ bitsy@wazy.com.
---
04.15.11 - Friday.
Want the details on Train's "Marry Me" contest? Click here: http://www.trainline.com/us/blog/our-soldiers-stationed-or-deployed-apart-loved-ones
I just got a phone call from a listener that was really touching. She told me that she always appreciated how CeeJay, Big John, and I are always in a good mood. She said that it always inspired her to be in a better mood. I wish I'd gotten her name because she totally made my day. Also, she inspired me to share why I'm usually in a good mood:
1) Decide to be in one! I know it seems crazy, but when I wake up in the morning, I simply decide that I'm going to be in a good mood. Granted, sometimes I want to break things or hit people with my car, but usually, I just feel peppy and smiley all day.
2) I eat a lot of ice cream. I truly believe that ice cream can put anyone in a good mood. Unless you eat a gallon of it in one sitting. In that case, you'll just end up feeling bloated.
3) Realize that life isn't as dramatic as it seems. Crappy stuff happens. You have to focus on the good stuff instead. Everyone gets crap and gets crapped on, but it shouldn't be the sole focus of life.
4) I have good friends. Your friends are reflections of you. Therefore, if you surround yourself with Debbie Downers, you'll be a downer, too. If you surround yourself with positive, happy people, there's a much better chance that you'll be happy, too. Happiness is contagious, after all.
Have a great Friday, and enjoy the weekend!!
---
04.13.11 - Wednesday
Do you think Britney has a body double in this? I doubt it. Nothing she's doing looks too complicated, and even still, Britney was a dancer first, not a singer. What do you think? Send me a line at bitsy@wazy.com.
---
04.12.11 - Tuesday
In honor of my birth, I would like to say a few words about my Momma and Daddy. They did everything they could while I was growing up to give me a stable, nuturing environment. They loved me unconditionally (even when I ran away from home at the age of five.) They took care of me. They believed in me. And they always made me feel that I was capable of anything. Especially on today, I want to thank them for being so incredible and bringing me into a world that was filled with love, positivity, and happiness.
I love you, Mom & Dad. You are the two most wonderful people on this Earth.
Also, as promised, here is a video of David Cook doing Adele's "Rolling in the Deep." Click here.
---
04.11.11 - Monday
First of all, I turn 25 tomorrow. I'm not too stressed about it, but I am also preparing for my funeral. Gotta start early, and let's face it, 25 really means "one foot in the grave" in Latin. And I totally didn't make that up.
Okay, can we go through the song "Pretty Girl Rock" for a second? I just want to say, first of all, that I like the song. BUT! Keri Hilson spends the first minute of the song talking about how beautiful she is, saying that she's "pretty as a picture" and that "this girl's a 10." Then, in the chorus, she's saying that she can't help it and that we shouldn't hate her because she's beautiful. My analysis: I won't hate you because you're beautiful, but I'll probably hate you because you're pompous and conceited and egomaniacal. I'll hate you because you think you're prettier than everyone - not because you're pretty. I don't hate pretty people. I hate stuck-up pretty people.
To watch Jon Cryer's announcement about his upcoming rap album,click here!
---
04.08.11 - Friday
Today was a crazy day. I woke up early to sirens on the other side of my apartment complex. So, naturally, I thought terrorists were invading. Turns out, someone's six-year-old had been helping with breakfast and accidentally set the toast on fire. Everyone is okay, and yes, I am the neighborhood snoop.
I write/direct/produce this show called The Almost Weekly Show on YouTube. Here is the latest edition. It's kind of Jon Stewart/Stephen Colbert without the politics. It's more about Purdue and pop culture. I would not recommend it to kiddos under 14. It's probably stuff they've heard before, I just like to pretend that they're all still innocent.
---
04.06.11 - Wednesday
My head feels like it's full of cotton balls today. Probably has to do with the fact that I drank half a bottle of NyQuil last night before I went to bed. I was not feeling well at all.
Here is Fergie in her Lego dress. I think it's adorable!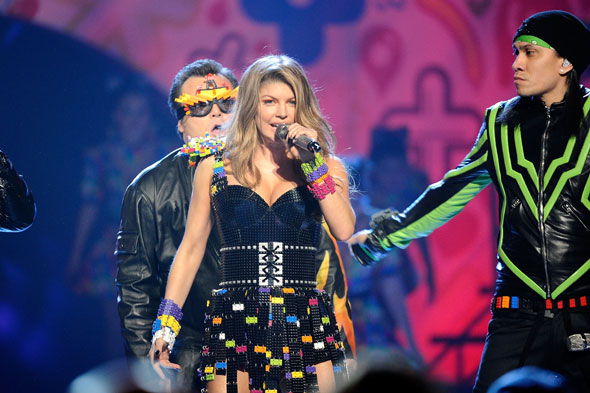 This is a picture from the Purdue Fashion Show taken by Brent Drinkut from the Lafayette Journal & Courier. See all his other awesome photos from the event by clicking on the picture below.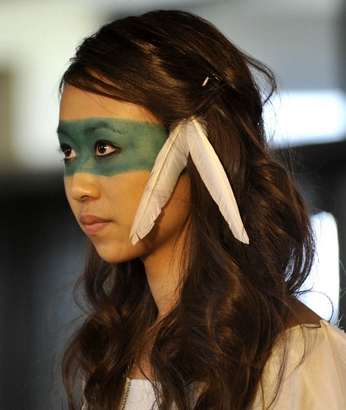 ---
04.05.11 - Tuesday
I am in such a fantastic mood today, and I have no real reason for it. Except that the sun is shining today, and yesterday was SO nasty. Why do gloomy days depress us like that?
I have senioritis so badly. There are about five weeks left until I'm done with school, and I am literally pulling my hair out in the meantime. I'm missing some of my classes so that I can just sit at a cafe drinking coffee and roaming the Internet. It is all so exhausting.
On the upside, in six weeks, I'll be graduated (after six years in college) with a degree and a decent GPA. I couldn't ask for much more.
Things to do today:
- Finish up classes.
- Work for a few hours
- Tape The Almost Weekly Show
- Practice with The Shake Ups!
- Homework
- Try not to drop kick everyone around me.
Listening to: Mumford & Sons
Be my Facebook friend! Clicky This!
---
04.04.11 - Monday
This is Katy Perry's video for E.T. Isn't it outrageous?